31m / up to 10 guests / 9 crews + 1 cruise director / snorkeling only

INQUIRE NOW - BEST PRICE GUARANTEE
About Rascal Boat
Inspired from Hamptons-style beach house with a touch of tropical twist, the Rascal liveaboard delivers the whole new meaning of 'stay at sea.' This 31-meter modern Phinisi combines Indonesian's teak and ironwood schooner with expansive spaces and five-star amenities and services. The lavish handcrafted interior was brought to us by a renowned designer Charles Orchard of iBal Designs. Build by Indonesian most reputable shipbuilder; Rascal reinvents the traditional hull architecture of a phinisi to merge with modern western convenience and six-star luxuries of a superyacht. Absorb the tranquility of the surrounding in its 1280 square-foot infinity roof deck, where you can gaze at the glittering expanse of the azure ocean, soak up in the morning sunbathe, or admiring golden sunsets.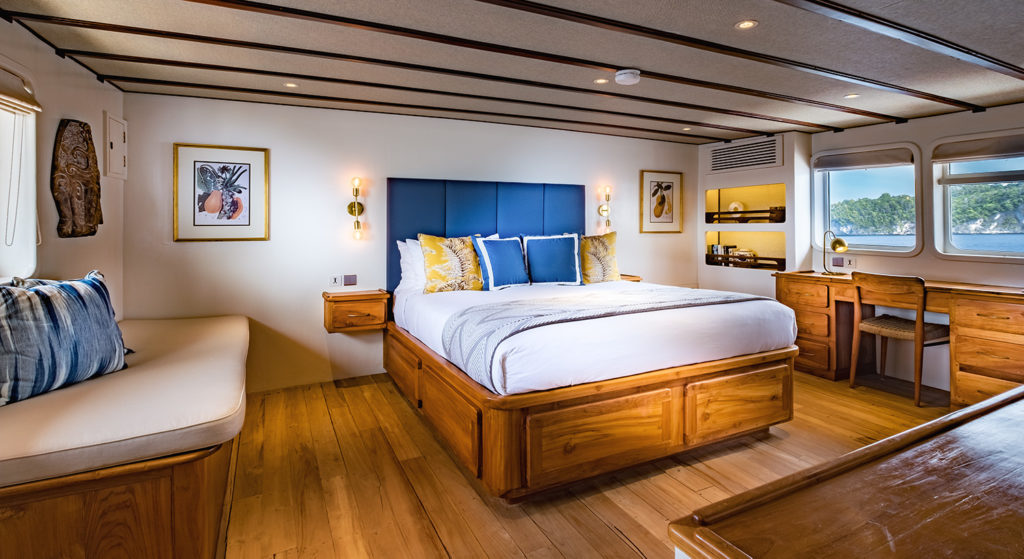 In Detail
The 'floating-villa' Rascal liveaboard was built for a luxurious barefoot adventure. It's the first Phinisi in Indonesia to have all of the five sumptuous cabins above the deck, providing the best ocean view from its expansive windows for guests to enjoy from their king-size beds. From comfortable interiors to the great outdoors, Rascal seamlessly transports guests to the wonders of Indonesia – walk amongst Komodo dragons in the wild, dive the vibrant underwater world, trek the jagged heals, or paddle the calm waters of Raja Ampat.
Five en-suite cabins with AC
Flatscreen TV with SONOS music systems on each cabin
Hot water showers
Diving and individual dive manager
Diving & snorkeling equipment
Fiberglass tenders
Two sea kayaks
Banana boat
Fishing equipment
Water skis
Life Onboard Rascal
Sail for a week of dazzling days in this aquatic beauty for a carefree cruising through uncharted islands in the remote Komodo National Park. Lounge in the comforts of Rascal's luxury, whether on bean bags or in the exquisite sunbeds while waiting for your next adventure in paradise. Enjoy all-day meals in Rascal's al-fresco restaurants where you can savor the gourmet dining with a 180º view of the sky and the sea. Get the best companion for your trip with a Rascal liveaboard signature cocktail, crafted by the expert mixologist behind a renowned Singaporean spirits company. When the day comes to an end, you'll retire to the luxurious comfort of your cabin.
Rascal Liveaboard Gallery
Send us a request for Rascal Liveaboard, our team will reply within 24 hours with the best price guarantee.