40m / up to 10 guests / 12 crews
Private Charter & Cabin Cruise Available // Price Range $$$
INQUIRE NOW - BEST PRICE GUARANTEE
About Manta Mae Boat
Manta Mae Phinisi ironwood schooner is a vessel of heartfelt songs, adventurer's wonders, and curious minds – designed especially for a select few who have what it takes to journey the seas in all its deep blue glory. Two majestic masts stand tall, painting the illusion of sailing during a past long gone, a lifetime ago, where journeying is all up to the wind and its whims.
This refined phinisi will take you to journey the stunning Flores seas and present you a chance to discover all of its worldly splendor. Life on the seas is not one to be trivialized. Only the determined and the seasoned can sustain the life of a sailor. But rest assured, the magic of Manta Mae phinisi schooner lies in the way she makes the select few like her sailors and passengers alike feel at home.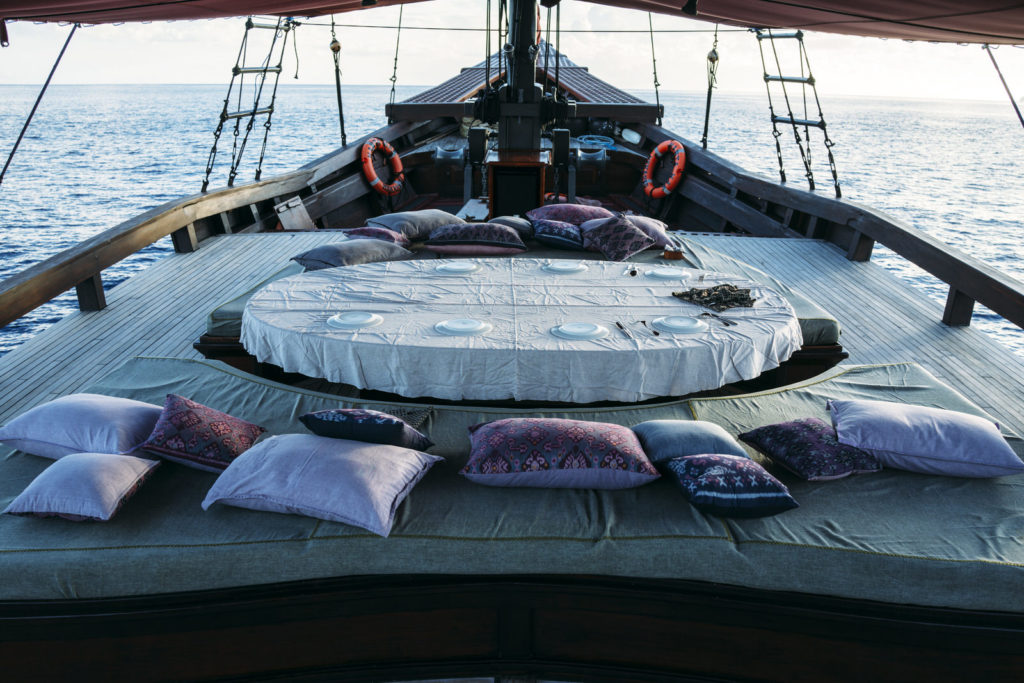 In Detail
The interior of Manta Mae phinisi is lavishly decorated with tasteful design that considers ambient lighting and entrance of natural sunlight. The shell and coral mosaic decorations as well as the fossilized wood are a nod to Indonesian's abundant natural wonders.
In total, there are 4 air-conditioned cabins:
1 Master cabin (king sized bed, en-suite bathroom, hot water, 3D TV, desk, a long curved sofa that can be repurposed as two additional single beds, air conditioner and a safe).
2 Deluxe cabins (queen-sized bed, one bunk bed, en-suite bathroom, hot water, TV, air conditioner and a safe).
1 Bunk cabin for 2 extra persons (with a private bathroom, hot water and air conditioner) – perfect for older kids or friends sharing a cabin.
Spacious sun deck.
Open living room.
Life on Board Manta Mae
Wake up to a song of sea waves and a view of an unobstructed sunrise beyond the horizons. Taste the salty winds in your tongue as you stretch the last of your sleep off your body. Get ready for the day with a scrumptious and nutritious breakfast. Whether it's diving, snorkeling, trekking, or simply lazing about the deck and feeling the sun's warmth in your skin, you'll have one unforgettable cruise ahead.
The Manta Mae phinisi is a marriage of modern lifestyle, technology, and the authentic charm of the traditional Indonesian sailing vessel. As such, you won't be lacking entertainment. Enjoy the bar located at the mid-ship salon. Dance to the music onboard with a state of the art sound facilities complete with its DJ stand. Had enough of dancing? Hop into the upper deck and enjoy a marvelous sight of the night sky. Star-gazing in the midst of the remote Flores seas is one of the small things in your journey you'll come to appreciate.
Manta Mae Liveaboard Gallery
Send us a request for Manta Mae Liveaboard, our team will reply within 24 hours with the best price guarantee.