40m / up to 12 guests / 18 crews
Private Cabin Available // Price Range $$$$
INQUIRE NOW - BEST PRICE GUARANTEE
About Damai II Liveaboard
By combining the harmony of nature and the traditional belief of ship art, Damai II liveaboard is present as the successor of Damai I which also accommodates 12 guests during the awesome Komodo tour. When it was constructed back in 2011, this luxury Phinisi boat was aimed to maintain the great performance that Damai I has achieved. Its birthplace was the famous Tanjung Bira coastline of South Sulawesi, the same place where all the legendary Phinisi ship were made before they gracefully sail the ocean throughout the world.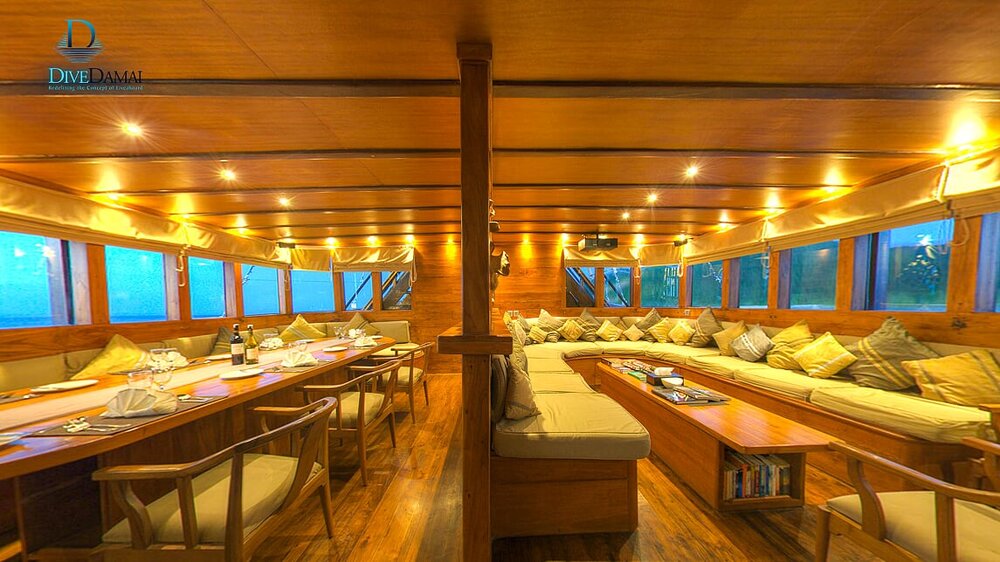 In Detail
Today, Damai II liveaboard is leaning on the port waiting for all the explorers to get in it and then take them to sail in the beautiful ocean of eastern Indonesia. With a great service and hospitality from 18 cabin crews, all guests are provided with extra comfort and entertainment. All of the 7 air-conditioned cabins are equipped with a flat-screen TV, a desk, a wardrobe, reading lights, bed-side tables, and en-suite facilities.
4 deluxe cabins that are located on the lower deck. Three of them have a size of 25 sq meters while one cabin only has an area of 20 sq meters.
2 master cabins, one of which is located on the lower deck while the other is on the main deck. Each of the cabins is 40 sq meters wide and has a private balcony.
1 deluxe double cabin on the upper deck with a size of 18 sq meters. Desk and wardrobe are not included in this cabin.
Life on Board Damai II
Damai II liveaboard is a perfect choice for all types of travelers. While the divers and snorkelers go underwater, the other voyagers can enjoy the fresh ocean air while sunbathing or enjoying the soothing relief massage. Moreover, there are also camera tables, rinse tanks in a designated space dedicated to cameras only. Thus, there should be no worries for photographers to bring their professional cameras onboard to capture one of the world's most beautiful natural landscapes.
Damai II Liveaboard Gallery
Send us a request for Damai II Liveaboard, our team will reply within 24 hours with the best price guarantee.