Super yacht – 60 m / 5 decks / 15 luxury suits
Cabin Cruise Available // Price Range $$$$
INQUIRE NOW - BEST PRICE GUARANTEE
About Aqua Blu Liveaboard
While there's an irrevocable charm of sailing on a phinisi yacht, going on a cruise expedition is an entirely different experience altogether. The Aqua Blu superyacht stands on a class of its own. Feel like you're staying at a 5-star hotel on land with a view of the endless seas and horizons, the Aqua Blu vessel is massive, and it deserves its title of a super yacht.
The Aqua Blu spans a resplendent history, being a former British Naval Explorer HMS Beagle and a private vessel of a noble family in Europe before its major renovation and rebuilding in 2019. She is a vessel is one that has stood the test of time and under the care of a design maestro, Cor D. Rover, the vessel had undergone a revolution. The vessel is definitely among the fastest and the grandest of all Hello Flores boat selections, and a sailing experience with her is no less than an adventure of a lifetime.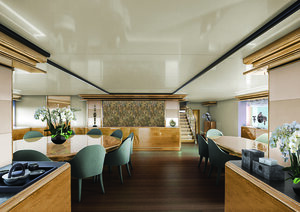 In Detail
The Aqua Blu vessel is an ultimate naval pedigree, it's a vessel that has what it takes to sail the boundless seas of East Indonesia. Aside from embodying luxury in each of its corner, Aqua Blu is a vessel that has attained the most prestigious international standards of safety including SOLAS, RINA, and ISM, adding Quantum Zero speed stabilizers for the maximum sailing comfort.
Aqua Blu All Suites Specifications
Electronic-safe equipped closet.
Luxurious ensure bathrooms equipped with: spacious walk-in showers and overhead rain showers, complete with organic bath amenities.
Cat I – 5 suites
Space size on average: 25-31 square meters including ensuite bathrooms
Lounge areas and walk-in closets for selected suits
King Bed
Interconnected rooms for select suites
Cat II – 7 suites
Space size on average: 25-31 square meters including ensuite bathrooms
Lounge areas and walk-in closets for select suites.
Porthole windows for select suits
King or twin bed
Cat III – 3 suites
Space size on average: 12-14 square meters including ensuite bathrooms
Twin beds
Porthole windows for all suites
Life on Board Aqua Blu
The life aboard Aqua Blu vessel is nothing like the other. Designed to explore the vast seas and a history of sailing great oceans, she'll take you to roam the East Indonesia's great body of water with its deep blue charm. Experience of the stunning biodiversity of Indonesia's legendary Coral Triangle housing over 70% of the world's marine species known to mankind and trek along the untouched and unspoiled lands of Flores and the surrounding islands. Come home on board to the comfort of one of the most advanced sailing vessels in its class.
Cuisine in Aqua Blu is an experience on its own. We have enlisted the help of a renowned chef, Chef Cross, who will create over 100 recipes refined from his years of experience in the world culinary delight, particularly the exquisite Indonesian cuisine. Within Chef Cross' capable hands, you'll be thrown back in time and rediscover Indonesia as the heart of the global chef trade that spanned centuries. Aside from the exquisite fine dining experience, enjoy barbecuing in a fun outdoor setting, with a backdrop of a staggering oceanic landscape, stimulating amicable conversations and connections.
Aqua Blu Luxury On Board Living Areas
Main sun deck with cozy outdoor seating, luxurious dining room, and salon.
Spacious sun deck with barbecue facilities and lounge sofa.
Forecastle deck with luxurious outdoor dining, media room, and a lounge bar.
Bridge deck consisting of a Jacuzzi and a luxurious lifestyle facility consisting of Spa and Fitness Zone.
Aqua Blu Liveaboard Gallery
Send us a request for Aqua Blu Liveaboard, our team will reply within 24 hours with the best price guarantee.