30m / up to 12 guests / 8 crews
Private Charter Available // Price Range $$
INQUIRE NOW - BEST PRICE GUARANTEE
About Andamari Liveaboard
Just launched in 2019, Andamari is a freshly built Phinisi that still holds on to its authentic style. Andamari boat will take all of its 12 guests to gracefully sail on Indonesia's beautiful ocean. This 30 meters boat provides you with more spacious areas that are perfect to enjoy the grandeur nature has. There is nothing to worry about because there are 8 cabin crews who will always make sure your ease and safety during the trip.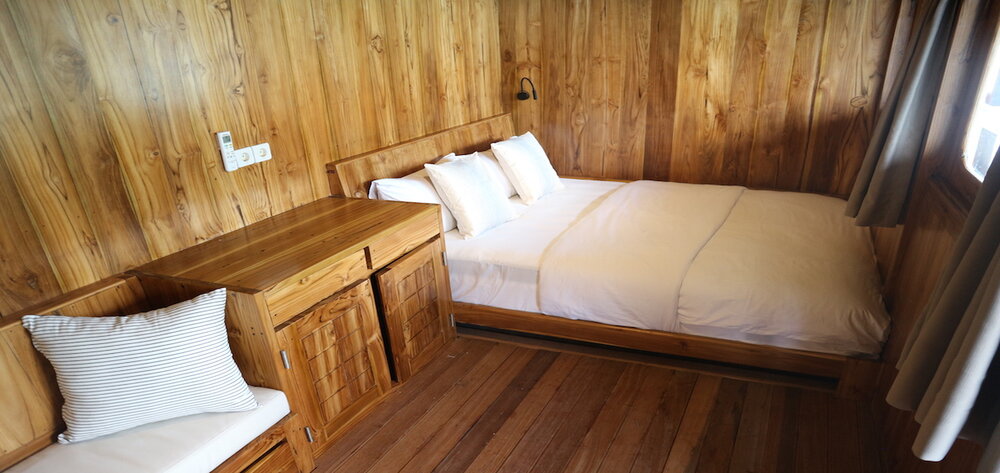 In Detail
Andamari boat is specifically designed to give you the most comfortable and relaxing holiday experience. It will take you to admire the natural beauty of Komodo National Park. The boat has 6 cabins which will provide you the best quality of sleep. Each of the cabins is well facilitated with air conditioner, hot & cold shower, toiletries, and a safety box. These inn-cabins consist of 2 different types:
2 double cabins which are located in the third deck
4 twin cabins which are located in the first deck
Life on Board Andamari
Your cruising experience with Andamari boat will elevate your vacation in the best of Indonesia's east-side ocean. The dedicated cabin crews will provide your meals during the trip. Moreover, you can also enjoy your morning coffee- or teatime with Komodo's attractive view. And when the sun reaches its highest position in the sky, you will know that it is the best time to taste the freshness of the local fruits from this tropical island.
Andamari boat will take you to the best attractions that the islands have to offer. It's time to enjoy your holiday in a slow way and forget all the rush from the city. Take a moment to feel the warmth of the sun affecting your skin and see the colorful underwater creatures swim ornamentally in the clear blue water.
Andamari Liveaboard Gallery
Send us a request for Andamari Liveaboard, our team will reply within 24 hours with the best price guarantee.